Pvt. Elias Hardin Pipes
Company I, 7th Kentucky Cavalry ( Morgan's Raiders)
---
Elias Hardin Pipes was born on September 23,1837 in Marion County, Kentucky. He was the youngest of four children born to Morris Pipes and Sallie Montgomery. Elias and Sallie were both grandchildren of Revolutionary War soldiers who had settled in Mercer County in the middle 1790s.
Four farmers with a great deal of experience around horses joined the ranks of John Hunt Morgan in September of 1862. They all bore the last name of Pipes, they all were cousins, and one was my Great Grandfather Obediah B. Pipes. The others were Elias Hardin, Silas Monroe, (the brother of Obediah) and Bradford, a cousin and son of William Pipes.
Elias was present for all the raids carried out by Morgan's Raiders, including the great raid into Indiana and Ohio in July of 1863. He was captured at Cheshire, Ohio on the 20th of July, transferred to Cinncinatti and then on to Camp Chase, Ohio ( near Columbus) on the 26th and then on to Camp Douglas, Illinois on the 20th of August. He spent the next 20 months in the confines of a prison camp that held many of his comrades from Morgan's Raiders including his three cousins and many of his old neighbors from Kentucky. It must have been very difficult for him to be confined, to be held in weather that is considerably less tolerable than in Kentucky and to be treated less than humanely as the men in this camp were reported to be, and it must have been difficult for him to learn that his father, Morris, passed away in March of 1864. Although it was no where near as bad as places like Andersonville, the punishments at Camp Douglas were severe at times and the food was barely enough to keep them alive. They were routinely punished for actions taken by their comrades in other theaters of war, losing privileges and being forced to stand at roll call for hours on end.
The only description of him comes from his prison papers which tell us he was 5' 10" tall, dark complected, with dark hair and hazel eyes. He was discharged from Camp Douglas on February 12, 1865 along with many others on that day and returned home to his wife Victoria and their children. He and Victoria had eight children altogether from 1859 to 1883. I have had communication with grand children and great grandchildren and one of them forwarded the picture that is on this page, taken sometime in the late 1800's.
In 1999 another descendant of Elias Hardin by the name of Tim Pipes, sent me a copy of this badge that belonged to Elias after the war. From the insignia it appears to have been issued by the Masons organization and marked his service in the war. Note that it gives the 3rd Kentucky as his unit and we should note that this unit was marked the 3rd and the 7th at various times. A very special thanks to Tim and his family for sharing this with us.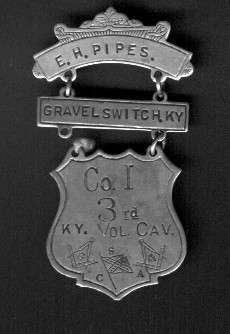 ---

Return to soldiers list
---