Pvt. Isaac Pipes

Company A, 27th Louisiana Infantry
Last updated on February 1st, 1998
---
Isaac Thomas Pipes enlisted on March 14th 1862 at Camp Moore, Clinton, Louisiana. He was listed as a prisoner of war at Vicksburg and was paroled from there on July 14th 1863. This Isaac is the son of David Pipes and his third wife Elizabeth Warner. A copy of his Parole form, signed by him is at the end of the page.
Born in Clinton Louisiana in 1840, son of David and grandson of John L. Pipes, Isaac married Louisiana Stone in 1864 in Louisiana and they moved to Texas in 1876. He died there in Dublin on Dec 27,1924. Lou Stone, his beloved wife, died in 1911.
---
I have a copy of the contents of a letter written by Isaac Pipes to one of his cousins. The purpose of the letter was to detail some of his family history and some of the sons and daughters and brothers and sisters that he could remember. From the dates contained in the letter it must have been written in 1917 at the age of 77 some 7 years before he passed on. I do not have the original letter. The content of the letter was typed in a 6 page document that lists bible records and births and deaths of some of the family and then the letter is appended, with no heading, so I do not know who it was addressed to. The document is part of the Thompson Manuscripts collection at Indiana University. Dr Stith Thompson was a Pipes descendant and also a Professor at Indiana. He specialized in folk lore stories and wrote several books on the subject. He was interested in the family history and conversed with several of the Pipes family. I do not know if this letter was written to him, but I assume he copied it from someone else. If anyone out there can tell me who the cousin was from the references in the letter I would appreciate it. Please note the "Family Legend" story at the end of the letter. I have not edited the letter in any way. I will gladly copy the document for anyone who wishes to have it.
---
A letter from Isaac Pipes to a family cousin in 1917.
This Charles Pipes was your Gr.Gr. Father and my father's uncle. His wife's given name was
Winifred. His children were David, Stephen, James, Charles B. ( we called him "C.B.") and
"Winnie" (for her mother) married a Mr. Bird. Think she was the only daughter. I knew Uncle
Charles an all of his family well as they lived 30 to 50 miles of us. Some even nearer. Cousin "C.B." I
feel sure, was Mrs. (cousin) Werner's Gr. Father. I knew him and his wife ( she was an East) so
well as they lived for years in our Parish ( East Feliciana) but they moved away before their
children were large and I lost sight of them during the Civil War. Gr. Father was John Pipes and
his wife was Mary Taylor ( lovingly known as "Aunt Polly") - God Bless her precious memory.
They lived and died in Adams County, Miss. near Natchez. His sons were David ( my father),
Lewis - Hiram - John - Isaac ( for whom I was named) and Levi; and daughters Cynthia Ann (
married a Rev. W.C. Chamberlain), Hester Ann ( they were strong on "Ann" ) Married Dr. W.
Tait, and another daughter (whose name I have forgotten) married Fred Taylor.
Our Great uncle David lived and died near Clinton, La. - was twice married ( can't remember her
name) in this union they had - Alexander S - Henrietta, who married Kinch Kearney of Madison
Co. Miss., and Emily, married a Mr. Phillips -- cousin Alex went to Morehouse Parish La. Before
the war and died there. Uncle David's second wife was aunt Amanda ( a widow) and to this union
were born two sons, William Henry who died long ago, and David Washington, who was in New
Orleans the last that I knew of him. My father's brother Lewis lived and died in Adams Co. Miss.,
his wife was Nancy Holmes, who was a sister of my father's first wife. Their children were
Robert, Charles, James, and Lewis, and girls Sarah ( who married your uncle Stephen Pipes, her
cousin), then Mary and Rachel. My father's first wife was Sarah Holmes; their children were Mary
Born Dec 9, 1823 and died Nov 23, 1844 - married John F. Goodrich - no children, lived only a
few years. Sarah Holmes born April 29,1828 and died -- no record- married Rev. J.H. Merrill.
John Holmes was born Feb 3,1827 and died Feb 22, 1901. Both left large families. Forgot to state
Bro. John married Catherine Kemp. Father again married Aug 121830 Minerva Flynn - who lived
but a few months - dying Oct 12 1831.Father married my mother, Elizabeth B. Warner Nov
29,1832 who died Feb 19,1880. Their children were Minerva Ann born Oct 3, 1833 - died Aug
20,1840; David Oct 1, 1855 and died Aug 14, 1843. Elizabeth Wall was born March 5,1837 and
died August 17,1847. These all died in the month August and of the same disease - Brain Fever. I
was born July 22, 1840. Nov 3, 1864 I married Lou Stone. We had known each other from early
childhood. She was the daughter of Dr. William Stone, an eminent Physician - and grand
daughter of Bishop William Murray Stone of Maryland. In Jan 1876 we came to Texas. We have
seven children living, all in Texas as follows - sons Robert Lee, John Stone, Pettis, Willie David,
Isaac Thomas, Louie Ballard and our only girl and baby Pearl Rivers, who lives here - sweet and
beautiful, has one child ( boy) aged 11 -- Lee also lives here, and has three sweet girls.
My angel wife went to her heavenly home six years ago, and oh cousin! I can't get over it. We
lived so happily nearly fifty years and I expect to thank God throughout eternity for blessing my
life with the loving devotion of such a wife. To know her was to love her - but my old eyes and
trembling hand admonish me I must hasten on. Would love to tell you all about my children. They
are a great comfort to my old age. We lost two precious little ones while small. Have seven as
named, living. Pettis is a member of the faculty of the Kidd-Key Conservatory of music at
Sherman, Texas and has won a reputation of which we are justly proud. But dear cousin I must
not longer tax your patience. So much regret my inability to give you as complete a record as I
had hoped, and fear, had led you to believe. As much is from memory, yet it is almost absolutely
correct. I am proud of the Pipes name - and have yet to know of a single one bringing to it the
blush of shame. I have met several of our name in different parts of Texas, but unfortunately they
know to little of the ancestry to establish positive relationship. Have much more to tell you but
can't now. Please don't drop me, as I am much interested and will always love to hear from you.
With tenderest love, your cousin
I. Pipes
After resting my old eyes a little I can't close without giving you the following related by my
father over sixty years ago and vouching for its truthfulness:
"How the Pipes name was saved"
"Many years ago when the only way of crossing the ocean was in the sailing vessels, a man, wife
and small son started on the tedious voyage as steerage passengers. On the way to America the
parents both died and were buried at sea, and as the little son was to small to talk, the kind
hearted Captain remarked his fears that the baby's name was lost, when an old lady present
remarked she had nursed the parents in their illness and learned their name was Pipes."
---
A copy of the Parole form Signed by Isaac Pipes in 1864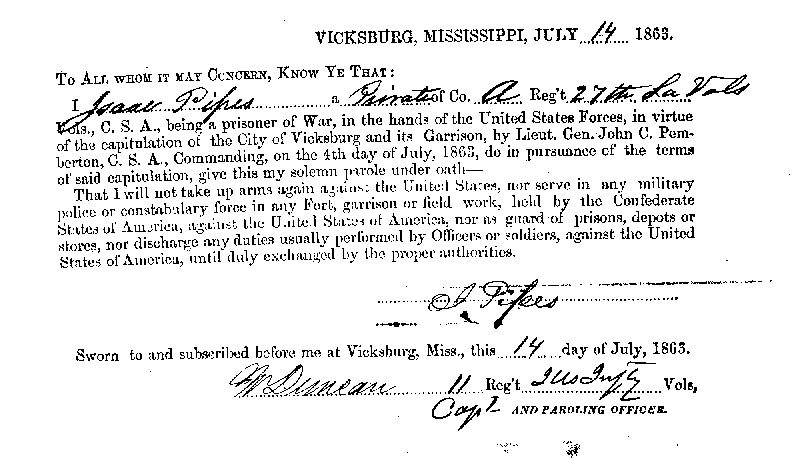 ---
---
---
The 27th Louisiana Infantry Regiment (Company A was known as the "Skipwith Guards")
This regiment was organized at Camp Moore in April 1862, with 973 men. The regiment left for Vicksburg, Mississippi, on May 1 and arrived on May 4. During the first Federal campaign against Vicksburg, May 18—July 27, the men did picket duty north and south of the city. The regiment did guard and picket duty in Vicksburg from the fall of 1862 through the early spring of 1863. On May 18, 1863, the men skirmished with the enemy as General Ulysses S. Grant's army surrounded Vicksburg. The regiment held part of the line of entrenchments during the siege of the city, May 19—July 4. The men repulsed an attack on May 19 and were said to have captured the first enemy flag and prisoners taken during the siege. In the course of the siege, 58 men of the regiment were killed and 96 were wounded. Following the surrender and their parole, the men went into camp for a time at Enterprise. Most of the men then went home on furlough. Perhaps a majority of the men remained at home even after the government declared them exchanged in the fall of 1863. In the summer of 1864, six companies, reduced in strength, reorganized at Alexandria. Companies A and H reorganized at Clinton, Louisiana, and became part of Gober's Regiment Mounted Infantry. One source states that Company D never reorganized, but some records show at least part of it at Clinton in June 1864. The regiment occupied a camp at Pineville until the end of the war. Occasionally, detachments would help garrison Fort Buhlow and Fort Randolph near the town. Many of the men began dispersing to their homes in late April 1865. The remnants of the regiment marched to Mansfield and disbanded there about May 19.

Return to soldiers list
---