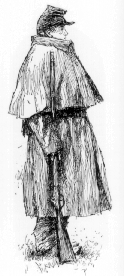 Lawrence Cronan Biographical Data
Supplied by James and Trisha Pipes, St. Johns Michigan
Lawrence Cronan was born in 1826 in Ireland. We find in his war record that he was from Waterford, Ireland. Lawrence died in 1906 and is buried in St. Josephs Cemetery, Gains, Michigan, He was a homestead farmer in Argentine Township, Genesee County near the town of Gains. His farm was approximately 100 acres in size, and was on the corner of Farris and Whittney Roads. The farm now belongs to George Whittney. Lawrence cleared the land and first built a log house and later built a large 12 room farmhouse and barns. The house burnt on January 11, 1914. He married Ellen Murphy, a widow of Ed Lee, they had 5 children, all of whom were born on the farm, 4 girls and 1 son. Ellen Murphy was also an immigrant from County Cork, Ireland. She came to Michigan from Connecticut with Mr. Lee. The children are as follows: Henora (Anna), Etta Cronan, Ellen (Nell), Kate Cronan, and John Cronan. Lawrence and Ellen's children married as follows: Henora married Mr. Noon, Etta Cronan married Victor Wolf, Ellen (Nell) married Chris Snyder, Kate Cronan married Mr. Badgely, John Cronan married Alma Wheeler.
---
From Ellen Cronin Pipes I have the following information: Lawrence was a jolly man with mutton chop sideburns, blue eyes, and smoked a clay pipe. We find in his war record that he was 5' 8" tall, that his complexion was dark, his eyes were hazel, and his hair was black. It also states that he was wounded in the thigh at Pittsburg Landing, Tenn. After being wounded at Pittsburg Landing, he was sent to Cincinnati to recover. Lawrence also suffered a head wound near Atlanta, Georgia. My research of this date and his unit show this to be the Battle at Ezra's Church. Unknown to the Confederates the Union Army was dug in with railroad tie breastworks when they attacked; this explained Lawrence's headwound. Apparently, he stuck his head up at the wrong time.
---
On March 7th, 1865 we find Lawrence reinlisting in Co. K ,11th Infantry. He was mustered March 9th, 1865 and out at Nashville, Tenn. September 16th, 1865. It is my understanding, that it was quite common for Union soldiers to reinlist for the $300.00 bounty money. Some would desert and reenlist in other regiments for the bounty money.
Also from the book The Roll Call Vol. 15 pg. 43, we find the following information: Dennis Cronan enlisted Co. A 28th Infantry August 31, 1864 at Marshall for 3 years, Age 36. Mustered September 1, 1864, Sgt., Jan. 6, 1865, died at Nashville, Tenn. March 31, 1865. Buried at National Cemetery at Nashville, Tenn.
Lawrence was said to have had two brothers who came with him from Ireland to America. This might possibly be Lawrence's brother.
---
The following is some information that I obtained from Michigan State Library. Lawrence Cronan was listed in the 1860 census of Livingston County. Some of Lawrence Cronan's neighbors in 1870 were Henry Stiff, W. L. Smith, and J. Newton. The following is from the 1870 census Genesee County Dist. 10 Argentine, Twp.: Land value $1200.00, personal estate $350.00. Lawrence Cronan 44 years, farmer, Ellen 36 years, keeping house, Mary L. Lee, age 11 yrs. at school, born in Cont., Bridget, 9 yrs. Margret 7 yrs., Henora, 3 yrs. Ella 1 yr. Parents can not read or write. 1873 County Atlas shows about 80 acres, 1880 Atlas over 100 acres.
---
We also find that Lawrence was made Company Cook in the Civil War Era. This position did not spare you from battle It might have afforded you some protection from the men in your company if you were a good cook. This was probably one of the better jobs when you consider some of the other duties of the Civil War troops. Some of their duties were picket duty, carrying water, digging breastworks, tearing up rairoad tracks and ties, cutting firewood, and burying the dead.
After the War, we find that Lawrence was a member of the Atherton GAR Post in Gains. All through the older records we find the name spelled Cronan. Only later do we find it spelled Cronin. We believe the earlier spelling to be correct. Some where along the line someone changed it. From Lawrence's Death Certificate, we find that his fathers name was John Cronan, and his mother was Mary Collins. On Ellen Murphy's Death Certificate, her fathers name was John Murphy.
Ed Lee might have been killed in the Civil War. Lawrence and Ellen were married in 1866 or 1867; it shows Henora age 3 years in the 1870 census, and she was their oldest daughter.
---