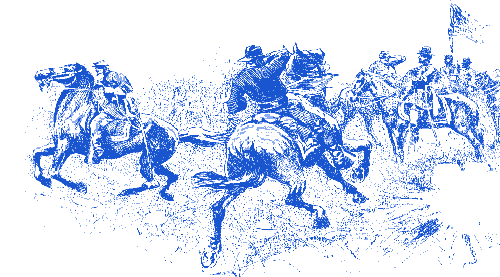 Obediah Brumfield Pipes
Pvt. Company I, 3rd Kentucky Cavalry
MORGAN's RAIDERS
---
---
Obediah was my great Grandfather. His name and the intrigue of the place that he was born and raised are what started me on my journey into genealogy. Who could imagine a man with a name such as Obediah Brumfield? What I would give to be able to sit down and talk with him for a few hours.
He was born in 1835, One of the nine children born to Nathaniel Pipes and Margaret (Harmon) Pipes. Nathaniel lived in Mercer County Kentucky, near present day Gravel Switch and Perryville, not far from where his father, John Pipes Jr. had settled in 1796 upon migrating from N. Carolina. The military persuasion was very high in this family as both of Obediah's grandfathers had been soldiers in the revolution. John Pipes Jr. was in the New Jersey line and Michael Harmon was in the Pennsylvania line. Their names along with many others from this area are engraved on a monument to men of the revolution on the Courthouse in Danville, Kentucky.
The records indicate that Obediah was living at home, helping with his father's farm at the start of the war. Things were very unsettled in Kentucky at the time, with passions running high for both sides, guerrilla warfare and night raids on a regular basis. In September of 1862 things reached a climax in that area and Obediah joined up along with his younger brother Silas and two cousins, Elias Hardin Pipes and Bradford Pipes. They apparently had to supply all of their own equipment, horses, saddles, weapons and courage as they joined the infamous confederate John Hunt Morgan and became part of the 7th Kentucky Cavalry as company I of Gano's unit. This unit is also sometimes referred to as the 3rd Kentucky
The next 3 years were a series of raids, prisons, exchanges, encampments and escapes as Morgan's Raiders terrorized the railroads and the supply depots of the State of Kentucky. Obediah was captured while on a raid in central Kentucky and taken to a prison camp near Springfield, Illinois. He spent several weeks there and was exchanged in City Point, Virginia. He returned to Kentucky and apparently joined Morgan again as he was captured a second time and sent to prison in Louisville. The records are not clear at this point but his brother Silas apparently was wounded and returned home after the Christmas raid in 1862 or else decided he had had enough. In any case, Silas is no longer on the roles after that date.
The month of July of 1863 was fast approaching and John Morgan decided to take his men and make his famous raid through Indiana and Ohio in an attempt to join with the Confederate forces at Gettysburg or at least to scare the daylights out of the Indiana and Ohio Yankees. Obediah and his two cousins were along for this raid as they all three ended up being captured and were transferred to Camp Douglas in Chicago until the end of the war. They were offered several chances to leave the camp near the end of the war by signing an oath of allegiance, they apparently refused until near death and then finally agreed in February, 1865 and were released. Camp Douglas was near present day 34th Avenue and Cottage Grove Avenue in Chicago. There is a small monument there to remember the prison camp.
The effects of the war and their imprisonment apparently had a toll on the three men. Distant memories and pension papers describe Obediah as walking with a limp for the rest of his life after a horse fell on him during some maddash cavalry raid, and he suffered from some uncertain stomach problems until his death in 1892 at the age of 57. His cousin Bradford died shortly after being released from Camp Douglas and returning home. Cousin Elias Hardin Pipes survived and I have a treasured picture of him and his wife Victoria Hourrigan.
Obediah married Josephine Bonaparte Edwards (1849 -1894 ) in 1869 and they raised eight children in Washington County Kentucky, one of them my grandfather, James Franklin Pipes. James moved on to Indiana when he grew up and married my grandmother Florence Rains. My father was born in Indianapolis and the family moved on to Flint, Michigan and the auto factories of General Motors.
---
Go To Top of this page

Return to Soldier's list
---