1840 - 1928
Civil War Veteran
Congressional Medal of Honor Recipient
---
A summary of data, facts and personal accounts concerning Captain James Milton Pipes as compiled by Robert J. Pipes. The author is not a direct descendant of Captain Pipes but is a "half second cousin, twice removed". We are both descendants of John Pipes Jr. and my interest is in both the genealogy and the military history of a very interesting man from a special time in our country's past.
---
James Milton Pipes was born in Dotysburg, Greene Co., Pennsylvania on November 10, 1840. Dotysburg was later incorporated into the town of Morrisville and so some records indicate both locations as being the home of James Pipes and his family. His father was Washington Pipes, a son of John Pipes and Eleanor Slater. John Pipes being a son of Revolutionary War soldier Captain John Pipes Jr. and his first wife Jemima Harriman.
The surname of James' mother is Clark and her given name was Cynthia Ann. Washington Pipes and Cynthia Ann had 7 children, all sons, from 1839 to 1855. They were: John H. (b. 1839 and also a soldier in the war), James, Abner B. (b. 1842, who also served in the war with his brother), Thomas (b.1845), Felix H. (b. 1851), George W. (b. 1853) and William S. (b. 1855). I have information on some of the brothers especially Abner, for more information about him see his page on the Civil War veterans list. We do have information that John H. became a doctor and lived in Wheeling, West Virginia.
---
The Migration
The migration to this part of the country by the Pipes family appears to have started in about 1770 when Windsor Pipes (a brother of John Pipes Jr.) came to what is now Greene County, Pa. to purchase land in what is called the "Tenmile Country", named for Tenmile Creek that runs through the area. This is near where Fort Jackson was built, in what is now Waynesburg.
This movement was part of a large migration of families from the areas of Morristown, New Jersey and from northern Maryland. Several of the allied families came here, among them the Hathaways and the McVays and the Harrods. Windsor was one of the first to purchase and sell land in this area. At the time it was a very dangerous place and was so filled with imminent disaster from the Indians and the elements that it is difficult to believe that they held on to life.
Windsor moved on, as he sold the land in 1772 and his movements from 1772 to 1781 are still being researched. He apparently moved on to Kentucky, as the obituary for his son Abner states that he (Abner) was born in Kentucky, that they lived near present day Louisville, and that the family moved on to Louisiana when the boy was about 8 years old (about 1780). Abner died in 1834 at the age of 62 years, so his birth must have occurred in 1773, which is amazing when you consider that the very first families to settle in Kentucky, including the Boones and the Harrods where first there in 1773 and 1774.
---
The Return of the Pipes brothers
John Pipes and Joseph Pipes ( both sons of John Pipes Jr.) returned to this part of the country and many Pipes descendants are the result of this settlement. John apparently came here from North Carolina to join his brother Joseph about 1794 and he married Eleanor Slater the next year. Joseph was born in New Jersey in 1763, he arrived in Washington County in late 1781and would have been a very young 18. Joseph was in the Revolutionary War in New Jersey with his father in the 4th New Jersey in 1777 and 78. He also had many adventures with the Indians, being captured apparently more than once. He reportedly married a Shawnee Indian woman but there is no record of her name and no evidence to support it. He reportedly also may have married a woman named Susana McVey, but this is unsubstantiated also. The reasons for these two brothers to return to this area are unclear, but the recent discovery that John Pipes Sr. (their Grandfather) married a woman named Susannah Hathaway may shed some light on the subject. The Hathaway's remained in this area for several generations, having first come here in the 1770s, so the grandsons may have come here to be with close family members. They had relatives elsewhere, including a father who had remarried and was living in N. Carolina, a grandfather in N. Carolina, uncles in Louisiana and Kentucky and possibly others. Why they chose Pennsylvania is interesting speculation at this point. But the fact remains that they stayed here and became a wellspring for future generations that gradually moved west to Ohio, Kentucky and Indiana. These two brothers had many children, John with seven sons and Joseph having fourteen children, or more, at least five of them boys.
---
James Milton Pipes
James M. Pipes enlisted in the Civil War in the town of Jacksonville, Pa. On August 18th, 1862. He was mustered in during the first days of September in Pittsburgh and became a member of Company "A" of the 140th Infantry Regiment Volunteers. He received a bounty of $25.00 and a bonus of $2.00
His description at the time of his enlistment follows:
5' 10" tall
Eyes: Grey
Complexion: Fair
Hair: Dark
Occupation: Farmer
Age 21 Yrs..
---
The Formation of a fighting Unit
From the Regimental history of the 140th Infantry we have an excellent historical account of the birth of this unit, written in the first person by one of the men who formed the unit, James Jackson, (J.J.) Purman, a younger member of the prominent Purman family from Greene County and himself a Medal of Honor winner who was seriously wounded at Gettysburg.
In July and August of 1862 the country was finally realizing the failure of McClellan's "peninsula campaign" and while Washington was under threat of attack by General Lee, the President issued a proclamation for three hundred thousand more troops. The men of Pennsylvania responded as well as any state and three local residents of Greene County set out that month to form a cavalry unit that was to be called the "Downy Invincibles" named after a prominent Waynesburg Lawyer, Robinson Downey, who had pledged to outfit a new cavalry unit. These three men, J.J. Purman, John F. McCullough and David Taylor met at the Hamilton House Hotel in Waynesburg about August 10. They planned and discussed their actions, had posters printed and split up to canvas the area for enough recruits to form a cavalry unit. J.J. Purman remembered distinctly that the first man to enroll with him was James M. Pipes and the second was John A. Burns.
Over the next two weeks their recruiting took them all over the western end of the county and on August 28th they had more than enough recruits. They rendezvoused at Jacksonville that morning and riding in wagons, they left for Waynesburg. He reports that Washington Pipes, having two sons enrolled, went with them and stood in one of the wagons, holding "Old Glory" aloft while they all sang "We'll hang Jeff Davis on a sour apple tree."
At Waynesburg they met with the other new recruits and learned to their dismay that no other cavalry units were being accepted, so they gradually came to the conclusion that they would go, but as an infantry unit and now adopted the new name "Greene County Rifles."
That very afternoon they elected officers and found a west point graduate named James Lazear to teach them basic infantry drill. McCullough was elected Captain, Taylor was Second Lieutenant and Purman elected First Lieutenant.
Their real journey started the next morning when they said their goodbyes and took wagons to Hookstown and on to Rice's landing on the Monongahela where they boarded the steamer "Elector", listened to speeches of encouragement and set off for Pittsburgh's Camp Howe and their place in history. Once at Camp Howe they were mustered into service and combined with units from Washington, Beaver and Mercer Counties. In a few days they were moved on to Harrisburg and Camp Curtin and were formed as the 140th Pennsylvania Volunteers with Richard P. Roberts as Colonel. The regiment was outfitted here with uniforms and heavy Vincennes rifles which were gladly exchanged later for Springfield rifles.
The ensuing months were spent in guard duty of the Northern Central Railroad and so they were stationed astride the Pennsylvania and Maryland border at a place called Parkton Station along the Gunpowder River from September 10 to December 10 of 1862. The days were spent in drill and the long fall nights were spent on guard duty of a vital rail line that was busily supplying the rest of the military effort.
This unit was involved in action at Chansellorsville in May of 1863 and that action will be detailed here at a later date. Their next major involvement was at Gettysburg in July of 1863.
---
Gettysburg, July of 1863
The 140th was assigned to the 3rd Brigade of the 2nd Division of the 2nd Army Corp. during July of 1863. The 2nd Army Corp. under the command of Gen. Winfield Hancock, the 2nd Division under command of Gen. John Caldwell and the 3rd Brigade was under command of Gen. Sam Zook.
James was wounded at the battle of Gettysburg on July 2nd, 1863 as his unit was situated on the Union far left, in the area known now as "The Wheat Field." The 140th made an advance across the far right corner of the wheat field and into an area know as the "stony hill" with several other units and was eventually beaten back as they advanced, possibly to quickly, and Confederate troops advanced on them from the area known as Rose's Woods and from their far right flank down the road that came from the peach orchard. The description of his actions that day state that he and another stopped during the move back across the wheat field to pick up and help a fallen soldier who could not move. While carrying this soldier, they were wounded severely. His wounds were described, as being to his leg and he was in hospital and recuperating for 3 to 4 months after. His pension application papers and the papers from his brother's application state that James and several others were captured that day by the confederates and held in the barn at the Rose farm until the following day when they were rescued as the Union forces overwhelmed their captors and they were released. He returned to his unit in November of 1863 after a fairly short recuperation in the hospital in Philadelphia.
It is interesting to note that an article in the Waynesburg "Democrat Messenger" newspaper written in 1963 states the story of his wounds and rescue with somewhat more detail. The actual paragraph from the newspaper article reads thus: " In a matter of days Pipes rejoined his company just as they were marching off to battle. Without a uniform or weapon, Pipes grabbed a loaf of bread and a raincoat and fell in with the line of march. He later took a rifle and cartridge belt from a dead buddy and entered the action as a rifleman."
This same piece of information is detailed in the regimental history but it is written so that it seems that he went back into battle grabbing the bread and the cartridge belt on the same day as his rescue, not several days later. The Regimental History states that he took the gun and belt from a wounded comrade, a Corporal Burke who had his leg amputated, not a dead comrade. I have copies of letters written by James and his brother Abner after the war, which indicate that he was in the field hospital at Gettysburg where he and his brother met and talked after this incident and he was then transported to Philadelphia, where he recuperated.
---
NOTE: Further research into this incident uncovered the story of what happened that day and the name of the other soldier and the wounded comrade. In a volume entitled "The Badge of Gallantry" by Joseph Mitchell, it is revealed that the other soldier was J.J. Purman, who was a 1st lieutenant of Company "A". He tells of the charge across the wheatfield and the sudden reversal when the Confederates drove them back out of the woods and across the wheatfield. We now have a statement made by James Pipes himself as well, it is from the volume "Deeds of Valor" published in 1905 and compiled from actual letters written by the combatants many years after the war. There is also a longer version of Purman's account, written in 1911 for a Gettysburg Newspaper
Lieutenant Purman's accounts:
"When we emerged from the woods and were about to retreat across the wheatfield, the only man of my company whom I could see was Sergeant J. M. Pipes. At this moment we came across a comrade whom I did not know, wounded badly in the legs. He cried out, 'Comrades, carry me off!' I replied that we could not do that as the enemy was too close upon us, but we immediately noticed two rocks nearby suitable for protection from the enemy's fire, and I said to the Sergeant, 'Come help me and we will put him between these rocks.' With the assistance of the Sergeant, I carried him and placed him between these rocks in an apparent place of safety. I remained with him long enough to straighten out his limbs and take his hand and say 'goodbye.' But this delay of a few minutes caused the enemy to gain upon me so much that it proved fatal to my intention of crossing the wheatfield and reaching our reserves on the opposite side. Within a few yards of me the enemy called out, 'Halt, you dammed Yankee, Halt!' I did not obey this command and in consequence, a few moments later received a gunshot in my left leg below the knee, crushing both bones, and fell instantly to the ground, the enemy charging over me. Unable to crawl off, I lay on the field all night and the next day, between the fires of both armies. About the middle of the afternoon of July 3rd I received a second gunshot wound passing through my right leg. Some time after this I was carried within the Confederate lines by Lieutenant Thomas P. Oliver, of the 24th Georgia and was given a canteen of water and placed in the edge of the woods under the shade of the trees... As a result of the wounds my left leg was amputated on the morning of July 4th and the strength and movement of my right leg was impaired. Since the war I have ascertained that the unknown comrade whose life I tried to save was John Buckley, of Company "B" and that he died from loss of blood and exposure before help could reach him."
(J.J. Purman wrote this account many years after the war, and at the time was living at 1435 Chapin St N.W. in Washington D.C. and he attached the title M.D. to his name. He earned the Doctor's title after the war at Waynesburg College in Greene County, Pa.)
Purman's August 1911 Account of The Actions as Published in the Gettysburg Compiler Newspaper
---
James Milton Pipes wrote the following statement to the compilers of the volume "Deeds of Valor" concerning his action at Gettysburg and at Reams Station sometime between 1898 and 1905. From the content it appears that the original statement may have been edited somewhat to fit the intent of the book.
James Milton Pipes' Account:
"On the afternoon of July 2, 1863, our brigade charged across a wheat field and engaged the enemy in the woods south of it. Taking advantage of our exposed position far in advance of our line, the enemy, under General Longstreet, poured a deadly fire upon our flank. Our little brigade had lost more than half its men and nearly all its officers, and had begun to waver and fall back before I could fully realize the situation. Standing at the right of my company, a step or two in front, firing as rapidly as I could, I saw that most of our men were getting across the field toward the main line, while the Twenty-fourth Georgia Infantry, crossing from the woods, was close upon us. Lieutenant J. J. Purman, of my company, was standing near me"
" The question confronted us: 'shall we be captured or take the slim chance of crossing that field ?' Of course we took the chance. We had hardly started when a wounded comrade pleaded to be taken off the field, as he could not rise. The rebels, who were very close upon us, called: 'Halt, you damned Yankees, halt.' We however, carried this comrade some thirty or forty steps and placed him behind some large boulders where he would have protection from the fire from both sides, and from being trampled upon."
" This occupied but a few moments, but the delay was fatal to our attempt to cross the wheat field. We had just started on a good double-quick, when Lieutenant Purman called out: 'I am hit!' I was then but a few steps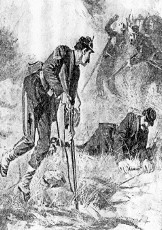 from him, and the next moment I received a wound in the leg, and replied: 'I am wounded too.' Realizing that I could not aid the lieutenant, having only one sound leg, I thought 'goodbye comrades,' and, using my gun for a crutch, commenced to hop off the battle-field, but had only gotten a few paces, when to my surprise, I found myself right among the Confederates."
" Our flank was captured, taken to the rear, and put in an old barn, then used by the enemy as a temporary hospital. We remained in their hands until the next morning, when our forces advanced and recaptured us, taking a good number of Confederates at the same time. I was carried on a stretcher to the tents of the Second Corps' hospital, established in the woods, where I found Lieutenant Purman, who had been wounded by my side, and whose leg had been amputated."
"On August 24,1864, at Ream's Station Virginia, two divisions of Hancock's Corps having torn up and destroyed several miles of railroad, a detail was sent out on picket duty for the night. Being captain and ranking officer, the command devolved upon me." Captain Pipes narrates in describing his second experience. "We were on duty all night, and the next day during the fight the enemy attempted to flank us, causing my command to become uneasy and fear capture. I saw clearly that to remain meant capture with serious loss, so finally assumed responsibility, and moved my men by the left flank back across the railroad, ordering them to lie down there while I reconnoitered."
"I discovered that our forces had left their positions, so I returned and led my command at the double-quick to a depression, where I ordered them to lie down again. I had been there but a few minutes, when a battery of the enemy unlimbered and opened a terrific fire upon us. They soon had the range and would have destroyed us, had not I ordered the command back up the hill at a lively gait. Near the top an officer came galloping up to me and said: 'Captain Pipes, if you will take in your men on the left and help check the enemy in their flank movement, I'll see that you will get credit.'"
" Moving some distance I deployed my men as skirmishers and led them in what was supposed to be the direction of the command. Then I ordered them to move forward, taking care to avail themselves of any protection they might find. Shortly afterward the command was given, 'cease firing' to enable us to discover the situation of our men and that of the enemy. While looking out under the smoke, when the fire of the enemy had abated, I received a wound through the right arm, shattering it from near the shoulder down to the elbow. The fight at this time seemed to be nearly over, and with the assistance of two comrades, I was able to lead my command back to the woods, where I ran across my regiment. My ride in an ambulance for ten miles that night was a memorable one. The dangling arm was amputated the next day at City Point, Va."
---
James had been promoted or elected to the position of 1st Sergeant of Company "A" of the 140th sometime shortly after his enlistment, and on July 30th of 1863 while in the hospital, he was promoted to 2nd Lieutenant. Later, while his unit was in Petersburg, Virginia in June of 1864 he was again promoted, this time to Captain, after the death of the acting Captain of his unit.
James was wounded again on August 25th, 1864 while in action near Reams Station, Virginia. While scouting the enemy flank and again while coming to the aid of a comrade, he took a Musket ball in the upper right arm. His right arm was amputated at the shoulder at Emory Hospital in Washington, D.C. sometime between the original wound in August, and November of 1864, when he was reported still in the hospital. James submitted a letter of resignation in February of 1865 because of his disability and his resignation was accepted on February 17th of 1865. His pension papers show that he was fitted with an artificial arm in December of 1869.
The Medal Of Honor
His medal of Honor was awarded on March 22nd of 1898 for most distinguished gallantry in action both at Gettysburg and at Reams station, Virginia. The actual citation reads as follows:
Rank and organization: Captain, Company A, 140th Pennsylvania Infantry. Place and date: At Gettysburg,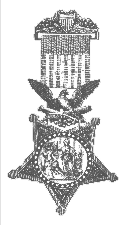 Pa., 2 July 1863; At Reams Station, Va., 25 August 1864. Entered service at: ------. Birth: Green County, Pa., Date of issue: 5 April 1898. Citation: While a sergeant and retiring with his company before the rapid advance of the enemy at Gettysburg, he and a companion stopped and carried to a place of safety a wounded and helpless comrade; in this act both he and his companion were severely wounded. A year later, at Reams Station, Va., while commanding a skirmish line, voluntarily assisted in checking a flank movement of the enemy, and while so doing was severely wounded, suffering the loss of an arm.
James was awarded an additional pension in May of 1916 because of a special act of Congress which created the Army and Navy Medal of Honor Role and the pension funds to support it.
---
After the war
Sometime during the war, his father Washington Pipes had removed to nearby West Virginia and James also returned to this area after the war where he met and married Martha Rowena Purdy. They were married on Nov 10th, 1870 (on his birthday ), in Elm Grove, W. Virginia, by Rev. James H. Flanagan. (Note that one of James' sons was named Henry Flanagan Pipes)
He and Martha had Five children:
Pearl H. b. Oct 17,1871 (she married Frank Henderson Simpson and lived in Clay Co., Flora, Illinois)
James Roy b. June 4, 1874 (James R. Lived in Washington D.C.)
Henry Flanagan b. Jan 13, 1879 (Henry was a Doctor and a Colonel in the Army Medical Corp.)
Edgar b. May 31, 1882 (Edgar died sometime before 1928 )
Walter Logan b. Sept. 27, 1886 ( Was a Patent Attorney and lived in Elizabeth, New Jersey)
James Milton Pipes was apparently a natural born leader, in the time between his return to the area in 1865, his marriage in 1870, and his move to Washington D.C. in about 1878, he was elected Treasurer of Marshall County W. Virginia, served as Secretary of State and was a member of the state Constitutional Convention. After moving to Washington he served for over 40 years in the government service, being employed in the War Department, in the pension office, and was for a time, a Clerk in the U.S. Senate. He also served in many positions in the GAR including Commander of the Department of the Potomac.
James retired in about 1920 and lived in Washington D.C. with his son James Roy. He took ill with pneumonia in late November of 1928 and died at the age of 88, on December 1st, shortly after entering Walter Reed Hospital. He was buried with full military honors at Arlington National Cemetery. His wife Martha, who died in 1923, is buried beside him.
Photo1 Photo 2 Photo3 of the grave stone at Arlington
---
Some Further Information on the Children of James Milton Pipes and Martha:
Walter Logan Pipes b. 1886 d. Dec 13, 1936 in Elizabeth, New Jersey. Walter graduated from the University of West Virginia with a Mechanical Engineering Degree in 1911 and from Georgetown Law School in 1915. He married Elreane Williams and they had a daughter named Jane Pipes in 1913. He worked in the U.S. Patent Office, for the Singer Company and then was a Patent Attorney with U.S. Rubber Company until his death.
Pearl Pipes b. 1871 Married Frank Simpson and lived in Clay Co., Flora, Illinois They had a daughter Diana in 1895. Pearl and Frank were still living in Flora in 1930.
Henry Flanagan Pipes b. 1879 Henry was a Doctor and was in the Army Medical Corp. His last known rank was Colonel and he moved around many times during his career. His wife's first name was Charlotte and they had a son named Robert L Pipes in 1921. His birth year may be wrong as it conflicts with information given in the 1920 and 1930 census which indicate he was born in 1869 not 1879.
Edgar Pipes b. 1882 Very little is known about Edgar. He is listed in the 1930 census as age 48, living in Washington D.C. but he is specifically not mentioned in his father's obituary in 1928 or in his brother Walter's Obituary in 1936. He is listed in his fathers military pension papers as being born in 1882
James Roy b. 1874 James Roy Lived in Washington D.C. and married Edith before 1919 when their daughter Edith was born. His father was living in James and Edith's home at the time of his death in 1928. Some information indicates that the home on Irving street belonged to James and Martha in earlier times.
---
James Milton Pipes lived in Bernwood, Marshall Co., W. Virginia in 1865.
He was in Charleston, W. Virginia in 1870.
He was living at 1366 Irving St. NW, in Washington DC in 1916 at the home of his son, James Roy and at the time of his death.
---
Sources:
1840 US Census of Pennsylvania
Pension application James M. Pipes - National Archives Records
Pension application of Abner Pipes - National Archives Records
Civil War record Captain James M. Pipes - National Archives Records
Medal of Honor Pension Award Certificate - National Archives
The Descendants of Hiram Pipes by John O. Hawkins
"Hennen's Choice" Vol II ppg 457-461 " The Pipes Family"
"The Tenmile Country and it's Pioneer Families" by Howard Leckey
"Bate's History of Greene County"
"A History of Washington County" by Crumrine
Greene County Deed book #1 pp 25
Genealogical Information Supplied by Kathryn Bassett of Pasadena, California
"The History of the Descendants of the Jersey Settlers of Adams County Miss." By Francis P. Mills
Information concerning Dotysburg and Morrisville supplied by Roger Doty of Greene Co. Pennsylvania
" The One Hundred Fortieth Regiment " A Regimental History by Robert Laird Stewart
Article: " Greene County and the Civil War (IV): Farm Boy Becomes Decorated Hero:" Democrat Messenger, Waynesburg, Pennsylvania, 1963. Copy courtesy of Roger Doty.
The Pennsylvania Adjutant Generals report of the Civil War.
"The Badge of Gallantry" by Joseph B. Mitchell, 1968, ppg 179 - 182
Obituary column, James Milton Pipes; Washington Star, Dec 2nd, 1928
"Deeds of Valor" Vol. I, ppg 233-234 Edited by W.F. Beyer - Published by Perrien-Keydel Co.
Personal information and Bible records given to Dorothy Hennen by Herman Pipes of Cameron W. Virginia
Obituary of Walter Logan Pipes - New York Times Dec 13, 1936
Grave site Photos at Arlington Cemetery by Cathie Cody, a descendant of James' brother, Abner.
1920 and 1930 census information from Ancestry.com web site for New Jersey, Washington D.C., Illinois and Virginia.
---

To soldiers List To top of this page
---