A Postcard From Ohio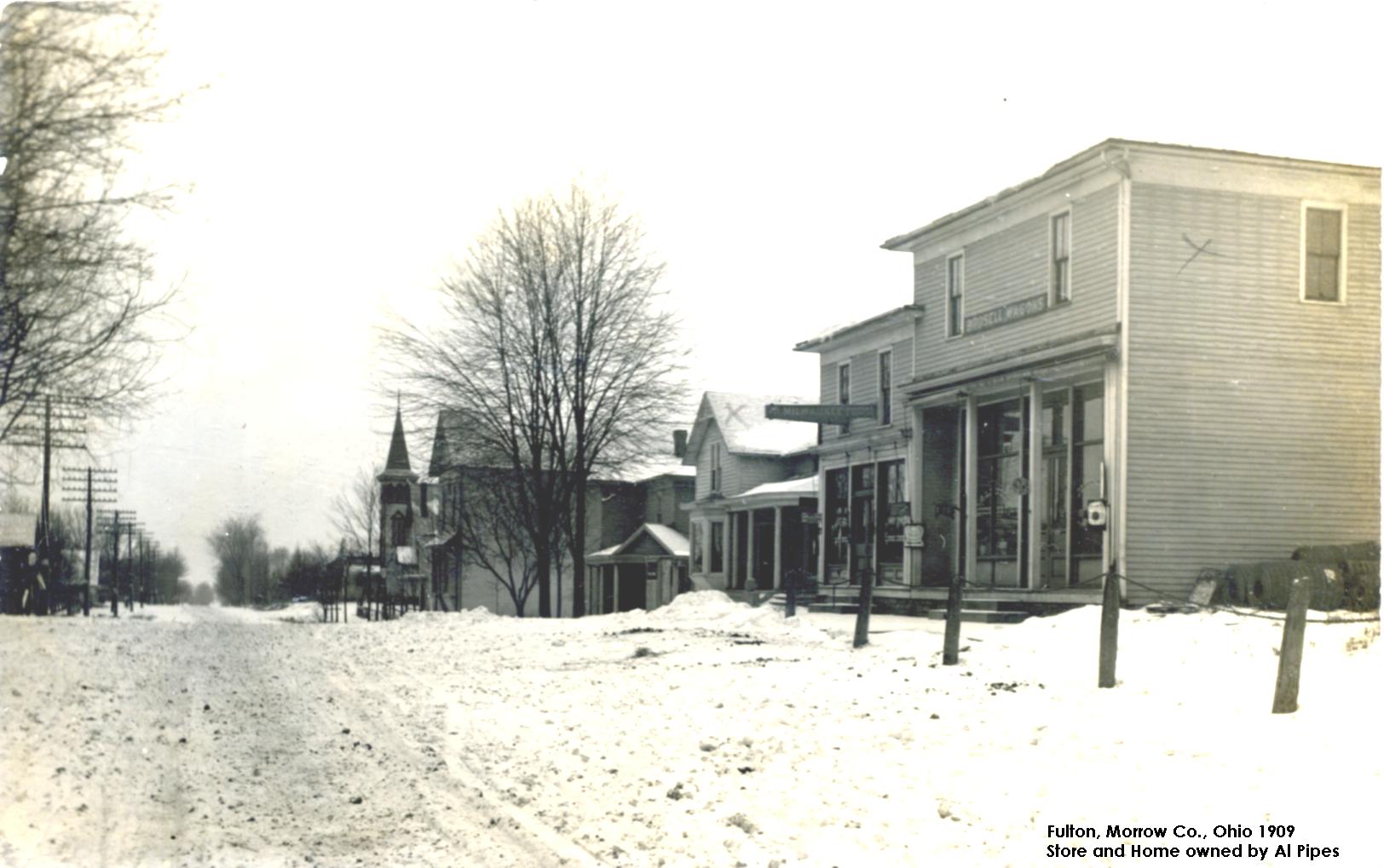 [Originally placed here in July of 2010, I have updated some of the facts and some errors that were in this story on August 6th, 2010]
In late spring of 2010, I received a message from our friend David Pipes who lives in England. In this message he mentioned a postcard that he had found on a web site in the US. The card was dated 1909, was for sale and the message on the back mentioned a "Mr. Pipes", who owned the store and the house on the front of the card. I was aware that Morrow and Knox county in Central Ohio had been the home of several of the Descendants of Joseph Pipes of Washington and Greene Counties in Pennsylvania since before 1820. (The earliest record I have is 1818 in Knox Co.) I purchased the card from "Judnicks Postcards" and started to investigate who the 'Mr. Pipes' might be and his connections to the Pipes family. There were many clues in the message on the back of the card and I found that someone had already written about Alpheous Pipes and his endeavors in Morrow County.
Morrow County History, published in 1911 - Pages 654 - 660
"Alpheous L. Pipes was reared to adult age on the home farm in Harmony Township and after completing the curriculum of the district schools of his birth place he was for two years a student in the High School at Chesterville. After leaving school he devoted his entire time and attention to farming until 1891, in which year he engaged in the hotel business at Fulton, continuing to be identified with that line of enterprise for about one year, at the expiration of which he launched forth in the hardware business. In 1904 he added to his original concern a general stock of groceries, dry-goods, boots, and shoes and notions. His establishment is practically a well equipped department store and it has been said concerning him that he handles everything from a needle to an automobile or threshing machine. His fine line of business and the large patronage to which he caters are the result of his own well directed endeavors. In addition to his store enterprise he is a stockholder in the People's Savings Bank at Mount Gilead, and is also a stockholder in the Ohio State Life Insurance Company.
In politics, Mr. Pipes accords an unswerving allegiance to the principals of the Democratic party and while he has never been anxious for the honors or emoluments of political office of any description he has ever manifested a keen interest in all matters touching the general welfare. He is a member of Fulton Lodge, No. 433, Independent Order of Odd Fellows and his wife is affiliated with the Daughters of Rebecca, in which she is vice grand of the Fulton Lodge. Mr. Pipes is a man of distinct and forceful individuality, of marked sagacity, of undaunted enterprise."
The Lineage of Alpheous L. Pipes
His ancestry starts with John Pipes Sr and Susannah Hathaway in Morristown, New Jersey. Their son, John Pipes Jr.(1739-1821) married in about 1760 to Jemima Harriman (ca 1740 - 1770s). John and Jemima had four children in Morris County, New Jersey: Joseph (1763 - 1856), John (1767 - 1838), Daniel (1769- ca 1810) and Rhoda( 1761-1832).
Joseph Pipes was a very young soldier in the Revolutionary War with his father in New Jersey and is listed as spending the winter at Valley Forge with the 4th New Jersey. He also was enlisted as a soldier with the infamous Colonel Crawford regiment in Ohio in 1782 and was in the Pennsylvania Militia in that endeavor. Joseph was captured by the Indians along the Sandusky River in Ohio at the defeat of the Crawford Regiment in June of 1782 and he was held captive for 4 years before being exchanged. His great grandsons also said that he had been captured and held captive by the Indians previously when he was a young boy. His exploits are told in an application he made for a Revolutionary War Soldier's Pension in 1833.
The Crawford Expedition
"At the twilight of the American Revolutionary War, British forces hired American Indians to conduct attacks on pioneers living along the Ohio and Pennsylvania border. In response, the 13th Virginia Regiment, an over 400-man mounted unit formed by General William Irvine, was led by Colonel William Crawford to destroy the Sandusky towns of the Wyandots and Delawares. This volunteer army departed Mingo Bottom on May 25, 1782, and headed west into the Ohio country. On June 4, they met an Indian force at an area called "Battle Island," located between Carey and Upper Sandusky. The Americans held the field, but withdrew when the British reinforced the Indians with Butler's Rangers and Shawnee Indians. Crawford was ultimately captured, tortured, and killed by Delaware Indians."
Joseph Pipes and His Children
After 1788 Joseph Pipes married and settled in Washington County, Pennsylvania. It has been said that he married an Indian woman but we have no proof of that. We are working on proving his marriage to Susanna Mcvey in about 1787. He and his wife started having children as early as 1787-88 when his oldest son named John was born and he had 14 children before the youngest was born in 1810. Our story continues with a son named Isaac Pipes who was born in 1807. Isaac moved to Knox county Ohio sometime before 1830 because some of his older siblings and cousins had already settled there. In May of 1830 Isaac married Elizabeth Biggs and they started a family. By 1834 they have moved to Harmony Township in Morrow County which is the western neighbor county to Knox and the 3rd of their 12 children was born. This son was named Harrod Pipes, namesake of William Harrod who had married Isaac's older Sister Rhoda. William Harrod and Rhoda Pipes may have been the first of Joseph's children to settle in Ohio as they have a child there in 1818.
Harrod Pipes is the father of our Alpheous L. Pipes. He married Mary Jane Sellars in 1858 and had 7 children with Alpheous being born in 1864. Harrod and Alpheous lived in Morrow county in and around Fulton and Mt Gilead all of their lives. The name Alpheous is from Greek Mythology meaning a river and also a river God.
In October of 1888 Alpheous married Iona Mae Graham and they had 3 children, one of whom has her hands on the Post card which started our story. The children are Delta Mae b. 1891, Mable b. 1894 and Pliny b. 1896. (The son was named Pliny Plutarch Pipes, I assume that was in reference to the ancient Greek authors and historians of those names.)
Alpheous Pipes and Iona Mae Graham Pipes (pictures taken ca 1910) From History of Morrow County. Ohio, By A.J. Baughman, pub by Lewis pub co., 1911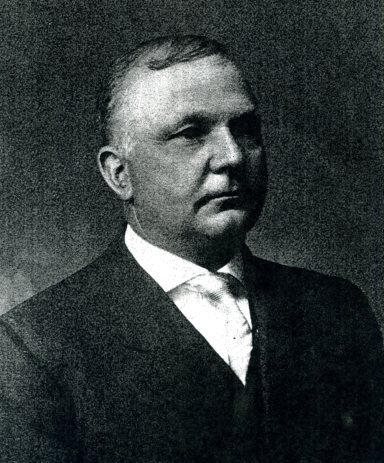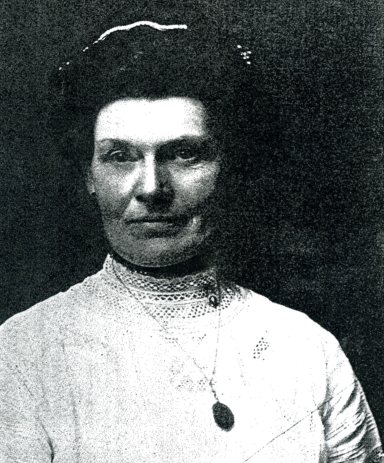 So, Here is the story and the details about the post card.
It is of a typical midwest rural village in America from the late 1800s to early 1900s; in this case, Fulton, Ohio. I scanned it in and lightened it up a bit and it is very nice. The building on the right has a sign on the front that says Birdsell Wagons and the small store has a sign jutting out that says "Milwaukee" something. maybe Milwaukee Tools. This card was probably produced as advertising for the store and to supply his customers with Post cards as well.
On the back is a message from a young man named Glen Fairchild. From the census, he must have been about 17 or 18. He is sending the card in late August of 1909, possibly at the end of Summer vacation from school. The message is sent to a young lady that he met in Ohio named Enid Anderson, of about the same age. She is from Wisconsin, of Swedish heritage and was probably a friend of Al Pipes' daughter named Delta Mae, also about 17 years old. I looked for Enid in the next census and find her in Minnesota working as a house servant for a Lawyer and his family. The post card picture is taken in Winter so it may be from a year or so earlier than 1909.
The message is saying that he has arrived back home OK and that Delta Mae (he refers to her as "D.M.P.") had given him Enid's address so he is writing to see if she will answer back. Enid is in Alexandria, Ohio, a small town not too far away. He is obviously interested in a relationship. Delta must have supplied him with the post card from her father's store.
Here is the message exactly as Glen wrote it in 1909
"The Store and house (on the other side of the card) which have an x on belong to Mr. Pipes. answer soon."
"Hello Enid,
I will drop you a line to let you know I arrived home all OK.
D. M. P. told me your first name, I couldn't think of it. Bye Bye
Answer soon
Glen Fairchild"
It is addressed to Miss Enid Anderson, Alexandria, Ohio and postmarked Aug 21, 1909 Fulton Ohio.
Prologue
I checked Google map view and find that the store and the house are no longer standing in Fulton. The church steeple and building seen in the distance appears to still be there and is a Methodist Church but the steeple has been removed and is much shorter now. Fulton is a very small crossroads community.
Email me if you have anything to add to the story.
www.pipesfamily.com 2010 [last updated Aug 6, 2010]