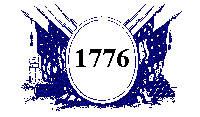 This chronological narrative is intended to place all the little bits and pieces that we have concerning John Pipes Jr. into a somewhat coherent picture of the man and his times. Many of the Pipes descendants have contributed to this picture, including Mrs Elizabeth Ellsberry, Charles B. Pipes, Jerry D. Pipes, Elsie Amerine, John Hawkins, M. Wayne Pipes, Ella Dumas, Sydney Kilpatrick and many others who enjoy the hobby of genealogy and consider themselves privileged to be a descendent of the Pipes bloodline. A special tribute goes to Jerry D. Pipes who provided the basis for this narrative and all the historical references that add the flavor of the times. I welcome the input of anyone who wants to add to this picture, just send me the facts and I will edit the narrative. The following research still needs work:
It would be especially rewarding to prove the Philadelphia connection of the Pipes' for certain.
Who was John Pipes Sr? His parents, his birth place, his heritage?
What happened to Jemima Harriman Pipes?
Where are John Pipes Jr.'s North Carolina Military records?
Where did Windsor Pipes travel from Pennsylvania to Louisiana?
This narrative last updated on 07/21/07 RJP
---
1739
Captain John Pipes Jr. was probably born in Morristown New Jersey in the year 1739.We do not have proof of this fact yet but all the facts available seem to point that way. His father was John Pipes Sr. and his mother's name is Susanna Hathaway. We have recently found an entry in the IGI that reports a marriage in October of 1735 in Berkley, Mass. of John Sr and Susanna. We also know that the Pipes and Hathaway families remained close to each other in New Jersey and in Pennsylvania. Susanna passed away sometime after they had six children, ( probably after 1755) but we do not where or when. We know for certain that John Sr. was married to a woman known as Priscilla Bowling later in his life, but we are not certain when they were married, but the location was Surrey County, N. Carolina.
John Jr. is the first member of the Pipes family who can be traced through records of birth, marriage, military service, voting records, tax records, military pension, wills and burial records. From this point in our history, it is possible to trace all of his offspring to the modern time.
1740
Windsor Pipes; John's brother Windsor was born on September 16, 1740 ( reported by some as being born in Philadelphia, but probably in New Jersey) and died April 19, 1806 in Jefferson County Mississippi. He married Jane Mcafee sometime before 1769 and they had five sons: Abner, John, Joseph, David, and Charles and three daughters: Jeanette, Mary and Letitia. The record of his descendants is very clear as well.
1740 - 1750
Abner Pipes; John's brother Abner was born, date and place uncertain. He died in Adams County Mississippi in 1802. We know that his wife's name was Mary (from his will) and that they were married sometime before 1778. They had several children, but all of their names are not known by the author. They were Joseph, Phillip, Ann, Abraham, Mary, Abner and John. Many, but not all of his descendants are known and can trace their roots back to Abner.
Phillip Pipes; John's brother Phillip was also born in this time period, date unknown for certain. This Phillip was mistaken to be Captain John's son in many places (North Carolina and Kentucky) and by several researchers. I believe this fourth brother Phillip is the Phillip Pipes who is listed in Limestone County Alabama, census records in 1830. In 1850 another census entry is made for a man named John Pipes, he gives his age as 85 which would place him as being born about 1764. I think this might be Phillip again ( an assumption) as it doesn't make sense to find another John Pipes born in 1764. His wife's name is given as Winney, age 78. They have a daughter named Deanna living with them, age 27 and her birth place is Alabama which means they were there before 1823. Two other census household entries are probably his sons, Phillip age 25 and his family, and John, age 23 and his family. I think this Phillip may have moved here (Alabama) from Kentucky but have not proved it yet. (There was a Phillip in Kentucky in the 1800 census.)
Sylvanus Pipes; We now are fairly certain that Sylvanus Pipes was a brother to John Jr and a son of John Sr. and Susanna Hathaway. Sylvanus must have been born about 1755, possibly in New Jersey. For more info on Sylvanus see other articles on this web site.
Susanna Pipes; Perhaps the only Pipes daughter or at least the only one with any trace of record. She appears in N. Carolina court records and was possibly married to a Samuel Carter. See the Hiram Pipes story for further mention of Susanna.
---
New Jersey

his article is intended to focus on John Pipes Jr., his life and his military record. Unfortunately, there is no record of John Jr. from the time of his birth in 1739 until September of 1760 when he and his brother "Winsur" were listed among the signers of an "obligation to pay a minister by rate" in Morristown New Jersey. We do know that his father, John Sr., came to Morristown, from Massachusetts, sometime in 1736. We do have some military records and bits and pieces from here and there that

allows us to put together a somewhat "impressionist" picture of his life and his time.
*A John Pipe was recorded as having jumped from a ship in Philadelphia in 1746. There is also the counterfeiting incident in which John Pipes Sr. and several of the Hathaways were involved and were arrested, along with several others, in Morristown in September of 1748. See that article elsewhere on this web site.
---
John Harriman moved his family from New Haven, Connecticut to Elizabethtown, New Jersey around 1686. He and his wife Hannah Bryan raised nine children as he served as the minister of the Presbyterian church and worked many endeavors to support his family. At least one of his sons, Joseph, born around 1685, later settled in Morris County with the records indicating as early as 1730 that Joseph was in Rockaway, specifically in Hanover Township. The first record of Joseph's son John Harriman in Morris County is in 1748 in a book denoting brands for livestock. John married Miriam Blackman sometime before 1730 and they reared 10 children, the oldest girl of these ten was named Jemima Harriman. She was born about 1740 and was to become John Pipes' first wife in 1760.
---

n June 21, 1750, Nathaniel Morris of Basking Ridge, New Jersey, married Rebecca Bailey. Nathaniel and Rebecca were the parents of Mary Morris, born about 1759 or 1760, she was to later become the second wife of John Pipes Jr. Rebecca apparently passed on when Mary was a girl because Nathaniel Morris married Hopestill Wood on August 24, 1763. Nathaniel and Hopestill had a daughter, Elizabeth, born 28 July, 1772. The marriages and births are listed in the First Presbyterian Church records in Morristown New Jersey.
Also listed in the First Presbyterian Church of Morristown, New Jersey; "Sarah Bailey married 7 June, 1754, John Ayres of Basking Ridge." Sarah Bailey and Rebecca Bailey were sisters. Rebecca's first two children were Rebecca and Nathaniel. She also had a daughter, Sarah. Mary also named two of her children Nathaniel and Rebecca.
---
John Pipes Jr. married Jemima Harriman in New Jersey about 1760. We believe they had at least three sons although there has been much speculation about who were their sons and how many there were. We know that Joseph Pipes who lived in Southwest Pennsylvania was a son of theirs because he said so, he stated that he was born in March of 1763 in Morristown. There is some certainty that John Pipes who lived in North Carolina and returned to live in Pennsylvania near Joseph was also a son of John and Jemima. He was born about 1764. The others who have been named but not proven are Matthew, Hiram, Phillip and George. I believe that the Phillip often mentioned is really John Jr.'s brother and the George mentioned is a son of Sylvanus. For information on Hiram and Matthew, see the Hiram Pipes story elsewhere on this site. They were definitely related to John Jr., but not his sons. Recent work by John Hawkins has discovered a possible daughter named Rhoda. This Rhoda married a man named De Camp and they moved to upstate New York.
We would really like to know what happened to Jemima, but she apparently passed away before 1775. I suspect that the story may be connected to Washington County Pennsylvania and the fact that their son Joseph said that he was captured by the Indians when he was very young and was held by them for 4 years. From the tax records it appears that John Sr., Phillip and Abner may have moved to North Carolina, with Windsor moving to far southwestern Pennsylvania as he is recorded as selling land there in 1772. Court records continue to mention John Jr and Windsor in Morristown until 1767, with Windsor suing Job Allen in 1765 and John Jr. signing a mortgage with John Harriman in 1767. Jemima is mentioned in her father's will in Morris County in 1772, and that is the last reference to her that is known.
---
The years between 1771 and 1775 are a mystery. What happened to Jemima? What became of their children? Is it possible that he lost Jemima and then left his children with various relatives and went back to an area he had known before just to join the military? We know that he was in the Militia from Morristown before 1775 so his children were between the ages of 10 to 14 years old. ( Joseph b. 1763 and John b. 1764) We also know that several of the Harriman family from Morristown were in the militia, they would have been his Brothers in Law, and may have drawn him back. I speculate that he left his son John with their Grandfather or Uncles in North Carolina and son Joseph went with Windsor to Southwest Pennsylvania.
---
1775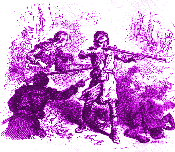 The first volleys of the Revolutionary War were fired at Lexington and Concord. The British army was badly mauled by American farmers who reacted to a British expedition that attempted to seize rebel guns and powder stored at Lexington and Concord. The famous ride of Paul Revere and others warned the farmers that the British were on the march. The British got to Concord where rebel fire forced them to retreat to Boston at a heavy loss of life. The British were surrounded in Boston where they remained under siege until George Washington drove them out of the country in March, 1776.
After Lexington and Concord, (1775) a colonel in the Vermont militia, Ethan Allen decided that the time was ripe to capture the "impregnable" Fort Ticonderoga. Without getting permission from Congress, Allen, Benedict Arnold, and the Green Mountain boys surprised the British Garrison by taking the fort without any loss of life. Allen is most famous for his order to the British Commandant: "Open the door in the name of Jehovah and the Continental Congress or I'll kick the (expletive deleted) thing down." Congress was shocked but hard pressed to turn away Allen's gift of the fort and badly needed powder and cannon.
---
His military record from The New Jersey archives
Morristown, Morris County: 1st Lieutenant in Captain Silvanus Seely's Company, Colonel Ephraim Martin's Regiment, Brigadier General Nathaniel Heard's Brigade, State Troops. August, 1776 ( Reference Manuscripts 3793 pg 1, 3794 pg 3, and 3796 pg 1)
Was at the battles of Long Island N.York on August 27,1776 and White Plains N. York Oct 28, 1776. ( Reference Invalid claim 13731 of David Leonard and Invalid Claim 1080 of Mahlon Pitney)
1st Lieutenant, Colonel Ephraim Martin's 4th Regiment of the 2nd establishment of the New Jersey Continental Line. November 28,1776. ( Reference Minutes of Joint Meeting Pg 10)
2nd lieutenant, Captain Noadiah Wade's 3rd Company, Colonel Ephraim Martin's 4th Regiment, New Jersey Continental Line,. February 17,1777 to date December 23rd,1776. ( Reference Minutes of Joint Meeting pg 16 and 17; Manuscripts 2376 and 3775 pg 27)
1st Lieutenant, June 1st, 1777 to date Jan 1st, 1777. ( reference Manuscripts 2376, 3775 pg 27 and 7268 pg 4)
Resigned October 30th, 1777. ( Reference Manuscripts 2387 and 3775 pg 27)
Lieutenant, Morris County Militia. ( Reference Manuscripts 1330 and Widow's Claim 8517)
---

ohn Pipes Jr. joined the battle against Britain at an early date. In 1837, several years after his death, his widow Mary applied for his pension which had been belatedly granted to survivors of the War of Revolution. In her affidavit she stated that John Pipes served in the war from 1776 until the end in 1781. Click here to see the text of her pension application statement.
---
There were two main classifications of military troops in the 18th century.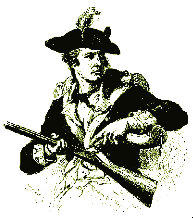 Militia: State armies (Militia) signed on for a very short term of service (30 - 60 days).These troops literally walked off of the battlefield on the day that their enlistment was up. Militia men were usually fighting out of loyalty to their state and sometimes ignored Washington's orders. Militia officers were elected by their troops and they often catered to the wants of their subordinates to keep their jobs. They were paid an average of $6 a month.

Continental: Continental or national army soldiers signed on for a year. Officers were selected on the basis of merit. These soldiers were paid only $3.50 per month while they are judged to have been much more effective than militiamen who sometimes ran from the enemies at the first shot.
Captain John fought first as a militiaman, he then enlisted for two terms in the Continental Army, and after retirement he volunteered again to fight as a member of the militia.
John Pipes was listed as a First Lieutenant in "Heard's Brigade." On June 14th, 1776, he was listed as Second Lieutenant, Continental Army.
Brigadier General Nathaniel Heard and 600 New Jersey militiamen were sent by the Continental Congress to disarm 788 Loyalists in Queens County New York. They managed to collect 300 weapons and arrest 19 ringleaders without bloodshed. Heard marched the ringleaders to Philadelphia as ordered. When Heard arrived with the prisoners, Congress sent the prisoners home because they did not have any place to hold them.
In 1776 the Tories or Loyalists were a powerful force in New Jersey. The Royal Governor was William

Franklin, son of Benjamin Franklin. Governor Franklin did everything he could to keep the New Jersey delegates from voting for independence from England. Eventually, the Whigs or Independence Men were able to rally a slim majority of the New Jersey legislature to their cause. William Franklin was arrested and deported to Connecticut, where he was kept under guard. This family split caused enormous embarrassment and heartbreak for Benjamin Franklin. Shortly afterward on July 4, 1776, Congress approved the Declaration of Independence.

ary Morris-Pipes testified that, one year before their marriage in 1777: "Mr. Pipes was then acting under the commission of Lieutenant during service in New Jersey, he was sometime attached to Cummens' and Dayton's Regiment, before his marriage, Mr. Pipes commanded a company and was in the Battle of Ticonderoga. He served 1 year and received his discharge."
Captain John likely served under Generals Benedict Arnold, Horatio Gates or Phillip Schuyler in a series of battles for control of Fort Ticonderoga. The fight ranged from Crown Point near Quebec up and down Lake Champlain into New York and Vermont. During this campaign, Arnold built a navy which was defeated by a much larger British force. While Arnold, Schuyler and Gates lost the battles, they held off British General Guy Carleton until winter forced him to retire to Quebec.
A general order from Colonel Ephraim Wheelock's orderly book, dated Headquarters Ticonderoga, September 18, 1776, said that Pipes, 2nd Lieutenant, was appointed 1st Lieutenant, Captain Conway's Company, his Vice (second in command) was listed as a Lieutenant Cartigan.
---
The British landed at New York in 1776 and completely routed the Americans who gave a very poor account of themselves. George Washington despaired over the unreliability of his troops and the tendency of militia generals to ignore his orders. In 1776, he faced a British and Hessian force of 30,000 men while desertions and militia defections reduced his forces to about 1,000 men. Congress was in a panic and it was likely that the British would smash the Revolution. America was saved by the onset of winter because European armies of that time did not fight in the winter, General Howe (British commander) ordered his troops to settle in housing for the Winter.

After retreating to West Jersey in 1776 with the British and Germans on his heels, Washington was able to raise a new army mostly of more short term enlistees. He was reinforced by a force drawn from Ticonderoga and other northern outposts under Generals Lee and Gates. It is likely that John was one of the barefoot soldiers to march to the support of Washington.

When Lord Howe captured East New Jersey, he offered a pardon to all Whigs who would declare their loyalty to the King. Many people deserted the cause of the United States. Those who refused were badly abused by the Tories.
Stryker's Register for New Jersey, Revolutionary War
Under the listing for "First Battalion - First Arrangement: Continental Troops Jersey Line." The commanding officer was Colonel Ephraim Martin and John Pipes Jr. was " First Lieutenant." ( Reference pg 38)
In the same arrangement John Pipes Jr., was listed as a "Second Lieutenant" ( Reference pg 39)
John Pipes Jr., First Lieutenant, Fourth Battalion Second Arrangement. November 28, 1776;
Pipes; Second Lieutenant, Captain Wade's Company, ditto, February 17, 1777; retired,
Captain Wade's Company September 26, 1780; First Lieutenant, Militia.
---
After he was discharged from the New Jersey Militia in 1776, Captain John Pipes joined the Army of General Washington and was in actual service with him for two years as a regular. Captain John's entire regiment was nearly killed and Washington had more officers than he needed. By now John had been promoted to Captain. Later he was offered a chance to return home on half pay, but he refused to do so. This offer was made to him by General Washington in person. Captain John Pipes was in sixteen battles during the War of the Revolution. (quoted from his widow's pension application.)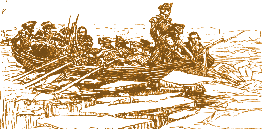 In the wee hours of Christmas Day, 1776, Washington shocked the British and Hessians by literally bringing his army back from the dead. Crossing the Delaware River with 2500 troops, he surprised and defeated a superior force of Hessian Troops at Trenton, Washington followed this success by defeating General Cornwallis, 6th Earl of Eyre, and the main body of the British Army at Princeton. Washington's bold stroke saved the Revolution and rallied the Nation at the lowest hour of the War.
Circumstantial evidence would place Captain John Pipes in this force as Washington rolled up the British forces in New Jersey. Mary Pipes testified that she married John Pipes in Morristown, New Jersey in August in the year 1777. Mary Morris was then in her seventeenth year, Lieutenant John Pipes, was on furlough from Washington's Army then encamped at Elizabethtown. Washington's winter encampment at Elizabethtown (1776 - 1777) was composed of the same force that routed the British at Trenton and Princeton.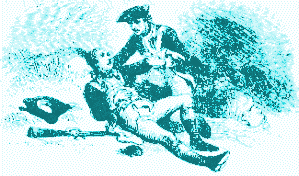 In the first major win for the Continental Army, General Horatio Gates' forces defeated British General John Burgoyne on October 7, 1777. Burgoyne was moving south from Quebec down Lake Champlain. Burgoyne and his German and Indian allies enjoyed easy victories taking Fort Ticonderoga; it appeared that he had a clear route to Albany and the Hudson River Valley. Burgoyne was supposed to be supported by General Howe coming up from New York City. If successful, this plan would have split New England off from the Atlantic and Southern colonies and end the war.

Without informing Burgoyne of his change in plans, Howe decided that he had a better plan. Howe marched on Philadelphia, leaving General Clinton with a small force to hold New York City. After taking Ticonderoga, Burgoyne decided to travel overland to Albany rather than using the water route. His progress was bogged down by rebels who burned bridges and destroyed food supplies. After a pitched battle at Freeman's Farm the Yankees had to retreat. Sensing a new strength, the defeated Americans met Burgoyne at Saratoga and when Howe Ailed to pin him as planned, Burgoyne and his army were forced to surrender and his army became Gates' prisoners.

Many historians believe that Saratoga ensured Britain's loss of America by convincing the French that America could win the War. When the news of Burgoyne's capture reached France, Benjamin Franklin and the American commissioners in Paris signed a treaty of alliance with France. The war would drag on for four more years with mixed results but the fate of the British was sealed with Saratoga.
Mary Morris-Pipes' uncle, Captain Joseph Morris, died on January 4, 1778, of wounds received in battle at White Marsh on December 5, 1777. Morris served as Captain of the 1st New Jersey from 8 November, 1775, to 20 November; 1776. He was Captain of the 1st New Jersey from 29 November, 1776; and became Major on the 1st of January, 1777. Morris Family Records, by J. Montgomery Seaver, Published by the American Historical Genealogical Society (page 40).
Sometime in the year of 1779 or 1780 John Pipes moved back to North Carolina, where his father then lived. In North Carolina, he joined the Army under Generals Gates and Green. Captain John was subject to draft as a minute man (not as a regular).
(Note: John Pipes was still listed in the "Revolutionary Census of New Jersey for 1778 - 1780" as a resident of Morris County.
---
NORTH CAROLINA

While North Carolina was the first colony to vote for the Declaration of Independence, it was a divided state. Western North Carolina, where John Pipes settled, was Whig Country. Here, in the back country, 40,000 Scots, Irish, and German settlers considered themselves to be both underrepresented and overtaxed. For more than ten years before the Revolutionary War they had waged a civil war with the "Regulators" of the eastern part of the colony. The eastern half of North Carolina was home to many wealthy land owners who were loyal to the crown. In 1776, Flora McDonald, a heroine of the Scottish rebellion of 1745, switched sides and urged newly arrived Highlanders to fight for the King. In concert with Royal Governor Josiah Martin, Lord Dunmore (deposed Royal Governor of Virginia), and former Governor William Tryon, Flora and her father tried to defeat the Whigs. Flora staked the family gold and financed a royalist counter-revolution. In a series of battles, her forces were routed by the westerners at Cape Fear in Alamance County.

North Carolina was a major battleground as the forces of British General Cornwallis ranged throughout the Carolinas winning most of the battles against the wily American General Gates but failing to deliver the knockout punch.

France, wearying of the War, was ready to make peace with Britain by conceding North Carolina, South Carolina, Georgia, New York, Maine, and the present States of Indiana, Illinois, Michigan, Wisconsin, and Ohio as British Territory. Without a victory, the rest of the territories would be all that was left to America. The undermanned, naked, and unpaid Americans under Generals "Mad" Anthony Wayne, Marquis de Lafayette, George Washington, Horatio Gates, and Nathaniel Greene faced Cornwallis and the cream of the British Army
John Pipes served as a Minuteman under Gates in these campaigns, but we have yet to retrieve any military records that might exist in North Carolina.
In 1781, Cornwallis decided to leave the Carolinas to make a stand at Yorktown in Virginia. There, in a military miracle, he was trapped and surrounded by the combined American and French forces marked by the sudden appearance of the French Fleet under Admiral de Grasse. Cornwallis surrendered to the Americans while the British band played "The World Turned Upside Down."
Captain John Pipes' family settled on Pipes' Creek in the northwest corner of North Carolina near the Virginia border in Surry County. Mary Morris-Pipes' family was also in North Carolina at the time. The tax rolls of Surry County list both families as well as many names that were also in New Jersey with the Pipes family.
Between 1780 and 1791 there were 6 children born to John and Mary. They were to have 5 more after the move to Kentucky. Those apparently born in North Carolina were: Ann ( Date unknown), Rebecca ( abt 1785), Abigail ( Dec 24, 1783), Elizabeth ( abt 1786), Nathaniel ( Dec 4, 1786) and Sarah ( abt 1791). A daughter Mary is listed in Mrs Ellsberry's book but no information is available.
---
In 1779, the vote was restricted to men who owned property and to other men who could afford to pay a poll tax. Money was not widely circulated in the economy. The paper money was not highly valued because it was subject to wild inflationary devaluation ("not worth a Continental"). Hard metal coins, the only reliable specie, were difficult to come by. One could say that the average citizen had a major cashflow problem. Property, usually land, livestock, or slaves was the real measure of wealth. This wealth was usually chronicled in county tax rolls.
Surry County, North Carolina Tax Lists from 1771 through the 1800 census proclaim the economic and political status of the Pipes and Morris families:
1771 Legislative Papers (tax) Volume 11.1, listed Nathaniel Morris as holder of one poll. George Moms was also listed on the rolls.
1772 Legislative Papers (tax) Volume, 11.1 listed Nathaniel Morris, as the holder of two polls. Richard Morris was also listed.
1779 Loose Papers, incomplete CR92.028 (tax) listed Richard Morris.
1782 Legislative Papers LP46.1 (tax) listed Nathaniel Morris as owning no land and Sylvanus Pipes as owner of three horses.
---

y 1784, family fortunes took a decided jump for the better. In tax booklet CR92.029 (Lewis District) Nathaniel Morris was listed as owner of 500 acres and one poll. Phillip Pipes was listed with one poll. Venas Pipes (Sylvanus?) was credited with 300 acres and one poll. Capt John Pipes Jr. had 250 acres and one poll.
The tax booklet (1786) for the Lewis District (CR92.030) still showed Nathaniel Morris with 500 acres and one poll. Capt John Pipes Jr. (200 acres and one poll) and Sylvanus Pipes (250 acres and one poll) each lost or sold 50 acres. Phillip Pipes joined the ranks of property owners with 50 acres and one poll.
Real estate conveyances of Surry County, North Carolina (Volume D, microfilm page 43, 1787) listed a property transaction between Mary Morris-Pipes' father and one Benjamin Parks: Nathaniel Morris purchased 200 acres at One Pound per acre:
'Benjamin Parks of Wilkes to Nathaniel Morris of Surry, 8-11-1787, for 200 pounds current money of North Carolina, fully satisfied, a tract of 200 acres in Surry on S. side of Yadkin River, beginning at a burch (sic) at mouth of Pipes' Creek, up same 18 chains to an ash, S 10 degrees #10 ch. to post oak, S 30 degrees, E 7 ch, to white oak lines agreed upon by sd. Parks and (Capt) John Pipes Jr.), E 1st ch. to Eaton's corner gum, E 22 ch. to a white oak, N., crossing Reed Creek 60 ch. to a stake, W 11 ch. to a black oak on bank of river, and up to beginning."
(Signed) Benjamin Parks
---
Captain Benges' microfilm of tax records listed two people by the name of Nathaniel Morris. One, apparently a son, owned no land and the other, Nathaniel Morris Sr. owned 500 acres.
The First United States Census 1790 (page 186) Listed John Pipes as the head of a family in the Salisbury District, Surry County, N.C.
Nathaniel Morris was granted a tract of land by Governor Spraight of North Carolina (Volume G. microfilm page 74). Since such grants were usually given to Revolutionary War veterans, it may be that Captain John would have received an equal grant had he stayed in North Carolina.
"Nathaniel Morris, State grant 300 acres, Surry County, on Reed Creek bog 2 white oak on W. bank sd. creek, beginning corner his old survey, E 10 ch. to black oak, N. 20 ch. to 3 post oaks, E 50 ch. to stake near Roberts lines, W with his line 22 ch. to post oak, W 38 ch. 50 links to stake, S 72 ch. 32 links to beg. 8-28-1795."

(Signed) Richard Dobbs Spraight Gov.
---
KENTUCKY
In 1790 The ninth convention of Kentucky meeting at Danville, decided against declaring Kentucky an independent country by accepting the terms offered by Virginia for independence as a separate state of the Union.
On June 1, 1792, Kentucky was admitted to the Union. Isaac Shelby was the first governor.
In 1795 citizens of the new nation were lured by the adventure and opportunity of the American West. Some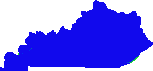 went west because the country was becoming too civilized. Others moved because of the promise of rich, virgin land and the opportunity to build a better life. We do not know why Sylvanus and George Pipes pulled up stakes in North Carolina and moved to Mercer County, Kentucky, but they did so sometime before 1790 . If they were typical American backwoodsmen, they longed for the open spaces, virgin woods, and unspoiled streams of the West. In the late 18th Century, the population of America doubled every 25 years; many folks believed that the country was becoming too crowded. Crowded or no, John and Mary and all their children made the move as well. In 1795 they sold their property and moved to Mercer County.
---

hat was Kentucky like when John, Mary, and children headed west? To begin with, there were two "highways" into Kentucky. The first and easiest road was down the Ohio River from Pittsburgh. The second and most likely path for North Carolinians, was the winding mountain passage called the Wilderness Road through Cumberland Gap.
The most famous Kentuckian of Captain John's time was Daniel Boone. Boone was five years older than Captain John, but they both knew the Yadkin valley and Surry County. Boone grew up in the Yadkin Valley which was also home to the Pipes' for a period of time between 1760 and 1790.
In 1767, Boone first crossed into Kentucky over the Cumberland Gap to hunt for furs. In 1773, he started to move his family to Kentucky. This dance of occupation lasted for several years as he made many attempts to settle here with his family and to survive the Indian objections to his presence. In 1778 Boone was captured and adopted by the Shawnee Indians, he escaped and his family was the object of many stories of frontier bravery, captures and rescues. The Pipes family must have had many contacts with him, both in N. Carolina and in South West Pennsylvania as he traveled up and down this part of the country, planning to settle the Kentucky territory. Boone and the Harrod brothers were friends and neighbors to the Pipes' in Washington County, Pa and the plan was to use the Ohio river to move into the new territory.
In the 1780's Boone was Sheriff of Fayette County, Kentucky. He also served as a surveyor and wilderness guide leading families who wished to settle in Kentucky. His grueling adventures with bears, Indians and nature continued during this period. In 1798, three years after Captain John moved his flock to Kentucky, Boone left the State for the Spanish territory of Missouri leaving a trail of debts, lawsuits and complaints about his shoddy surveys.
The Second Census of Kentucky, by Clift listed George Pipes, Captain John Pipes, and Sylvanus Pipes as residents of Mercer County, Kentucky. Phillip Pipes was listed as a resident in neighboring Washington County.
Back in North Carolina, the will of Mary's father, Nathaniel Morris was filed in probate court. The terms of the will stated that the oldest surviving son, David Morris, was to receive the greater share of the property and provide good clothing and bedding for his mother, and sister Nancy. Nancy apparently suffered from some form of mental illness because the will states that Nancy would receive the family furniture and four cows when she came to be of sound sense and memory.
Another brother, Nathaniel Jr. received two colts but David had to buy the feed for the horses. David could trade Nathaniel's colts for other horses but was not permitted to sell them. (Will Records Volume II, 1789-1792, page 50: Nathaniel Morris, Senior to David Morris.)
It was not unusual for Mary Morris-Pipes to be "left out" of her father's will. The custom of that time, was to endow the entire estate to the oldest son who, in turn, had the obligation to care for the widow and other brothers and sisters still at home.
---
John Pipes settled in Mercer County in the area known as Doctor's Fork which is located just south and west of present day Perryville, Kentucky. An indenture was made on April 30, 1796 between John Pipes and William Brumfield for John to purchase 38 acres of land on the head waters of Doctor's Fork for seventy five pounds. This land was part of a parcel of land granted to William Brumfield through a treasury Warrant. The Brumfields must have been close friends, there was a small crossroads in the area named Brumfield and my Great Grandfather Obediah was given the name Brumfield for a middle name.
Deed of record filed in Mercer County, Kentucky, and dated March 15, 1811, stated that (Capt) John Pipes Jr. gave his Negro slaves to three of his children: "To my daughter Sarah, my Negro girl Lenny. To my son William, my Negro boy, David. To my daughter, Anne Cox Pipes, my Negro woman Aggy."
The ownership of three slaves certainly did not signify that Captain John was a wealthy southern plantation owner. Many small and poor Southern farmers owned slaves. Slaves were considered to be personal property and their value could be fairly high depending on age, child bearing potential, and physical condition. From the records that I have read, it appears that John and his children were all farmers, growing tobacco and sustenance crops while raising cows, pigs and horses.
Captain John Pipes Jr. died August 6, 1821, in Mercer County, Kentucky at the age of 82.
Click here to see the text of his will.
Click here to see a picture of the Cemetery at Doctor's Fork
Mary Morris-Pipes, age 77, widow of Captain John Pipes Jr. applied for a pension provided to survivors of Revolutionary War veterans by an act of Congress in 1836
The Continental Congress promised that pensions would be paid to veterans of the Revolutionary War. But it was not until 50 years after the last shots were fired that they were finally prodded to living veterans or their widows. There had been much bitterness over the failure of the United States to honor those promises. When the pensions did come, it was too little and too late for most. Captain John's pension for ten months and 7 days service ($136.88 per annum). was approved by an act of Congress on July 4, 1836
In the Index of Census of United States Pensioners published by the Federal Government, Mary Morris-Pipes, age 81 was listed as a recipient of a veteran's pension in Mercer County, Kentucky.
Mary Morris-Pipes died November 12, 1841. Peter Harmon, Administrator of the estate wrote, in a deposition dated 23 February, 1843, stating that nine of her eleven children were still living. They were: Nathaniel P. Pipes, Morris Pipes, William Pipes, Elizabeth Harmon, Jane Harmon, Polly Jones, Rebecca Grisom, Nancy Gray, and Sally Pipes. I have a copy of the inventory of her estate if anyone is interested, and maybe I will add it here someday soon.
---